Public Policy and Opinion Research Professionals of the West Coast
Annual Conference
December 15-16, 2016 | San Francisco
Call for Participation
Submissions due October 15, 2016
The 2016 PAPOR annual conference welcomes paper, poster, and panel proposals on any topic related to public opinion research, theory, or methodology. We welcome participation from all sectors engaged in public opinion and public policy research including academia, government, private sector, and non-profit.
Calling Undergraduate and graduate students! Do not miss this great opportunity to share and show your work with PAPOR's opinion research professionals – it could lead to your next career move. More student competition information.
Download the 2016 Call for participation for more information (pdf)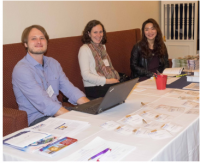 PAPOR Trail Newsletter
Now Available:
May 2016 PAPOR Trail Newsletter (pdf)
Featuring:
Annual PAPOR conference recap
Student paper competition winners
President's letter
Upcoming Events
Dates and locations for AAPOR annual conferences through 2020
Check out our PAPOR Trail archive for past editions.