Public Policy and Opinion Research Professionals of the West Coast
Annual Conference
December 15-16, 2016 | San Francisco
Conference Overview
The 2016 PAPOR Conference featured two short courses and five panel discussions. To read more about these sessions essay writing service, follow the Agenda and Downloads button above.
Short Courses
Usability Testing for Survey Research
Election Polls & Registration-Based Sampling: A New Method for Pre-Election Polling & Likely Voter Models
Conference Topics
Sampling, Design and Analysis
The 2016 Election – What Happened and What's Next
The Survey Science, Data Science and Behavioral Science
Public Opinion on Important Social Issues
Survey Design and Best Practices
Marijuana and Public Opinion Change
PAPOR Short Course
The recent Short Course with the topic Measurement of Sexual Orientation and Gender Identity was held October 14, 2016, live in Los Angeles & via live webinar.  Thanks to our host site UCLA Center for Health Policy Research
PAPOR Trail Newsletter
Now Available:
December 2016 PAPOR Trail Newsletter (pdf)
Featuring: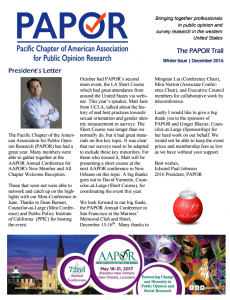 Student paper competition winners
President's letter
AAPOR annual conference notes
PAPOR Mini-conference notes
Upcoming Events
Dates and locations for AAPOR annual conferences through 2020
Check out our PAPOR Trail archive for past editions.
Got news?  We'd like to share it!
Contact the newsletter editor with stories or announcements about:
Personal or professional accomplishments

Additions to your family

Checked off a bucket list item

Upcoming events

New publications or resources

Did your PAPOR membership help connect you to a job or a candidate? 

Tell us about it.